Hello,
This is Origin Online.
In order to maintain a pleasant and smooth gaming experience a server inspection has been completed.
Time of Completion: Friday, August 29, 2019 16:30 Origin Standard Time (GMT -4)
[Patch]
- Level Cap has been increased to 80.
- New Skills Added.
- Donwhang Cave is open.
- Taklamakan Area is open.
- New quests Added.
- New Degree 8 Weapons and Armor.
- New Unique Lord Yarkan in the Taklamakan Area.
- Introduction to Avatars in Item Mall. These will rotate from time to time.
- Other useful items added to item mall.
- Bandit Fortress has been replaced with Jangan Fortress with tax benefits from NPC stores and Specialty Trader NPC in Jangan.
* In order to accommodate the current server population in Fortress war, the following changes are made.
- All unions are disbanded.
- Guild member limit is set to 25 players.
- Union limit is set to 2 Guilds.
This will allow more guilds/unions to attack the fortress. Also prevent unbalance when most players are in one union.
- Added new starting items to aid new players on their journey.
x1000 HP potions large.
x1000 MP potions large.
x20 Return Scroll.
x20 reverse Return Scroll.
1x 5 days monkey Ability Pet.
New Pet filter has been added.
We have completely re-designed and re-worked the pet filter system in order to allow more control over what items you want to pickup using your ability pet.
This also fixes the issue where the ability pet didn't pickup all the item drops on the floor.
You can access the pet filter by clicking on the Settings tab on your ability pet.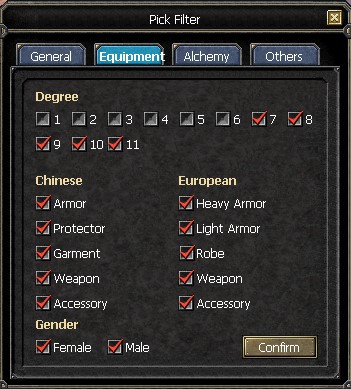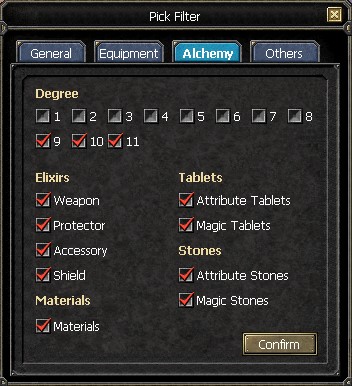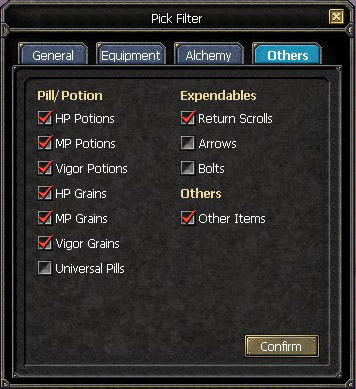 We hope players enjoy the new update and gameplay improvements. We wish you great fun and glory in the new world to conquer!
The Journey Continues!
Origin team